FUNDACION CANAL- CANAL DE ISABEL II, CENTRAL MADRID
BLIP's new installation for Daniel Canogar at the City of Madrid's 30th ARCOMadrid contemporary arts festival has been extended until 3rd July 2011. Travesías, originally developed for Canogar by BLIP as the European Parliament installation for Spain's Presidency of the European Union, at 33m by 1.65m (108 x 5.4 feet) was the first display installation to comprise a complete helical shape. The sunlit space of the Justus Lipsius building in Brussels required a high-brightness display which was also light enough to be suspended in the glass atrium of the building, and the P37 display - designed and manufactured by BLIP - was the only technology to meet the demands of the installation.
At Canal Isabel II, Travesías-II is vertical in format - sweeping upwards from the front entrance and filling the venue's iconic water tower. BLIP's linux-based display management computers are connected to the company's international server infrastructure, which monitors the display installation constantly and enables curators to schedule programming.
Retail Week concluded: "The best point-of-purchase is about a good deal more than attracting attention although clearly this is part of what it should do. Moving beyond this, point of purchase should entice the shopper into parting with cash and Sony's campaign - taken to stores across Europe - does exactly this … particularly impressive when the sheer volume of point-of-purchase material used in the electricals sector is taken into consideration. It is also worth noting the way in which (it) uses the product to achieve real stand-out and prominence in what can be a somewhat bland area of the market – a strong and well-put together creative execution."
High performance playout of hundreds of moving image titles to in-store displays enables BLIP's in-store installations to achieve the very highest image quality for critical applications such as television sales. The company's purpose-built linux computers offer fault tolerance and customisable touch-screen-based shopper interfaces - giving an intuitive and easily updated shop-floor experience and enabling inexperienced customers to select favourites from a large choice of media. Hot sub-titling allows easy localisation to many different languages and immediate messaging to an unlimited number of in-store displays, potentially replacing printed merchandising. BLIP provides full customisation for clients' personnel using secure websites and at the same time minimising training - or it can provide a turn-key service with proven sales benefits.
watch LED installation video on blip's blog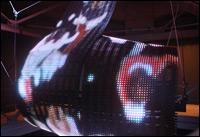 P37 installation, Canal de Isabel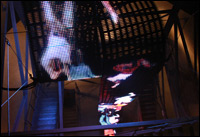 P37 installation, Canal de Isabel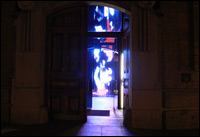 P37 installation, Canal de Isabel