ADVANCED MEDIA TECHNOLOGY
BLIP's groundbreaking research into visual media, computing and electronics has created new display technologies for both the commercial sector and the arts. The company has been at the leading edge of computer-controlled display projects and creative for more than 20 years, as well as developing extensive experience in specialist film and video post-production. It maintains active interests in science and technology and their relationship to the arts, architecture, culture and the environment; for example, organising the internationally acclaimed MediaArchitecture conference in London in 2007.

Corporate clients include Barclays Bank, Coca-Cola, Land Rover, Samsung and Sony Home Entertainment, for whom BLIP has developed and operated landmark displays and award-winning networks of retail display systems all over the world.

BLIP's arts projects have included major exhibitions at Kiasma, Helsinki; ZKM, Karlsruhe; ARS-Electronica, Linz; the ICA and the Royal Academy, London, and ICC, Tokyo. University projects, dating back to BLIP's Visual Theory Group at Imperial College, London, in the 1990s, now include a Media Arts Research Unit and professorship at Central Saint Martins and a fellowship at Westminster University. Recent public projects include 40m display installation works in the European Parliament Brussels and at ARCOMadrid, the 30th contemporary arts festival in Madrid.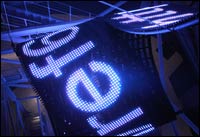 P37 installation, Canal de Isabel, Madrid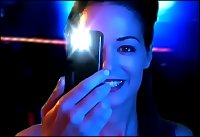 SAMSUNG "JET" commercial

Sony Golden Spaces, Selfridges, London
SONY GOLDEN SPACES DISPLAY NETWORK
At the 2010 Retail Week Interiors Awards, 'Golden Spaces', the in-store marketing suite for Sony Home Entertainment, developed and maintained by BLIP, won 'Point-of-Purchase Campaign of the Year'.
Retail Week concluded: "The best point-of-purchase is about a good deal more than attracting attention although clearly this is part of what it should do. Moving beyond this, point of purchase should entice the shopper into parting with cash and Sony's campaign - taken to stores across Europe - does exactly this [..] - a strong and well-put together creative execution."

P37 LED installation, Brussels
EUROPEAN PARLIAMENT LED INSTALLATION
BLIP created the LED technology for Spanish artist Daniel Canogar's artwork Travesias, and in January 2010 the work was installed in the Justus Lipsius Building – the Council of the European Union, Brussels - marking the opening of the Spanish Presidency of the European Union.