DISPLAY NETWORKS
BLIP's retail network systems products arose from its development of in-branch LED displays for clients such as Barclays Bank, where high reliability and security of financial messages were crucial - as well as image quality and cost of ownership. Today BLIP maintains and operates hundreds of flagship retail display installations for major clients such as Sony, and in 2010 won 'Point-of-purchase Campaign of the Year' for its interactive in-store systems.
Retail Week concluded: "The best point-of-purchase is about a good deal more than attracting attention although clearly this is part of what it should do. Moving beyond this, point of purchase should entice the shopper into parting with cash and Sony's campaign - taken to stores across Europe - does exactly this … particularly impressive when the sheer volume of point-of-purchase material used in the electricals sector is taken into consideration. It is also worth noting the way in which (it) uses the product to achieve real stand-out and prominence in what can be a somewhat bland area of the market – a strong and well-put together creative execution."
High performance playout of hundreds of moving image titles to in-store displays enables BLIP's in-store installations to achieve the very highest image quality for critical applications such as television sales. The company's purpose-built linux computers offer fault tolerance and customisable touch-screen-based shopper interfaces - giving an intuitive and easily updated shop-floor experience and enabling inexperienced customers to select favourites from a large choice of media. Hot sub-titling allows easy localisation to many different languages and immediate messaging to an unlimited number of in-store displays, potentially replacing printed merchandising. BLIP provides full customisation for clients' personnel using secure websites and at the same time minimising training - or it can provide a turn-key service with proven sales benefits.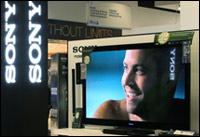 SONY GOLDEN SPACES, LONDON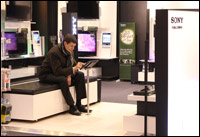 SONY GOLDEN SPACES, PARIS