SPECTACULAR DISPLAY INSTALLATIONS
In the mid 1990s BLIP developed high-performance computing clusters - enabling moving imagery for public-space displays to be rendered in real time. The overwhelming benefits of automatically generated - unique - movies reacting to external data, such as websites, sports scores and weather conditions - together with significant cost reductions of producing imagery, gained the company major contracts at sites such as Piccadilly Circus, London and central Moscow. BLIP subsequently developed display installations, remote management networks and creative for clients such as Barclays, Coca-Cola, LandRover and Samsung, moving from multi-lens projector systems when LED became available, and designing the largest curved display in the world.
BLIP's display systems - both for art exhibitions and commercial installations - have provided and sustained comprehensive remote diagnostics, fault tolerance and maintenance since the 1990s. The company's purpose built linux-based computers produce the highest quality imagery and employ the latest diagnostic instrumentation and fault tolerance hardware. Continuously updated security software enables BLIP's installations to use low-cost, internet-based connections without sacrificing protection from malicious attack. Sophisticated automatic escalation of events at remote locations enables large numbers of installations to be managed through pre-emptive diagnostics, which identify problems and notify support centres immediately - and often in advance of serious potential failures. BLIP provides international maintenance services using both its own and third party personnel working with the company's dedicated support centres, enabling very high reliability to be achieved even for widely distributed displays.
ADVANCED LED SYSTEMS
Drawing from the experience of working with major art and music installations and advertising projects, for over the last ten years BLIP has developed a new display architecture, drawing from its experience with major art and music installations and advertising projects, which now offers truly advanced integration of lighting, moving imagery and real time control. Using high performance, linux open systems-based computing, and drawing upon fault-tolerance and data security techniques from the aerospace industry, BLIP products now allow ambitious and very large installations to be undertaken which were not previously possible.
Key to this capability is BLIP's Pixelbus™ architecture, which enables display systems for both temporary events or permanent installations to be built and operated quickly and reliably. Pixelbus™ uses industry-standard network technologies, but creates a completely scalable network of intelligent display elements that can be configured rapidly for indoor or outdoor use. For the first time, dynamic image and lighting displays can cover the irregular surfaces of performance stages, or hillsides with viewing distances of hundreds of metres; changing the way we experience public space.
Pixelbus™ displays have been proven in prominent international public installations, such as the Spanish Presidency installation at the European Parliament, Brussels and at ARCOMadrid - the 30th contemporary arts festival in Madrid.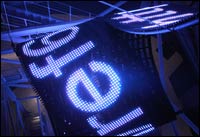 P37 installation, Canal de Isabel, Madrid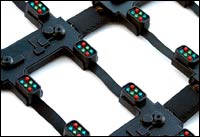 P37 module
P37 modules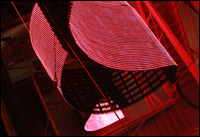 P37 installation, Canal de Isabel, Madrid